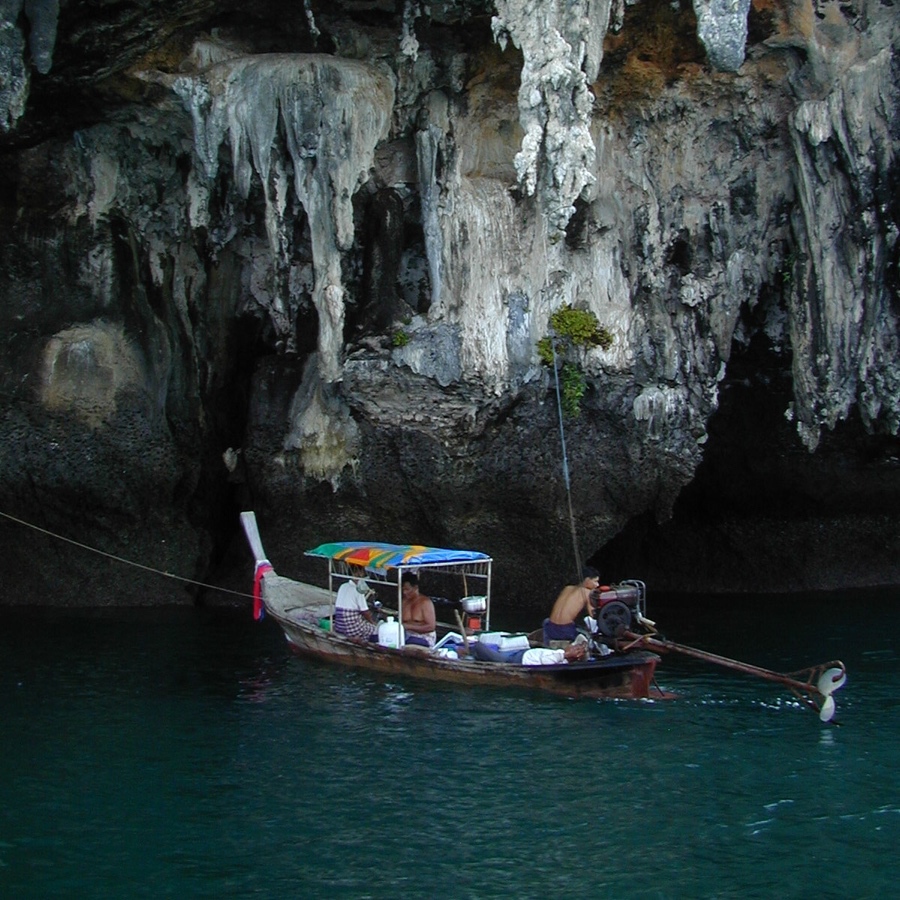 Koh Yao Noi is one of the larger islands in Phang Nga Bay, an archipelago of 44 islands. It is easily accessible from both Phuket and Krabi Provinces and sports some of the most beautiful sea scenery in South East Asia.
Its sister – Koh Yao Yai – extends south of Koh Yao Noi. This twin Island is even bigger and wilder and offers wonderful spots for trekking.
POPULATION
Sea Gypsies (Moken people) where inhabiting the Bay before anybody else, except maybe other nomadic people like forest hunters and collectors (Sakai, Negritos).
The 3,500 or so inhabitants of Koh Yao Noi are thought to be recent migrants from the Malay Peninsula (Satun, Trang).
The Mon population, linguistically and culturally belonging to the Khmer ethnolinguistic group, did settled in peninsular Thailand since ever, ruling maritime states like the one of Ligor (Nakhon Sri Thamarat). They melt continuously with Southern migrants from Malaysia and with Northen rulers (Thai), over centuries of commercial exchanges and political conflicts.
Most probably the Mon stock remains prevalent for most of the people living nowadays in Southern Thailand, includoing people of Koh Yao.
Numerous cave paintings hidden in the many islands of the bay, extending from 2000 years ago to last century, attest the influence of distinct communities in the emergence of a mixed origin population, living now in the provinces of Phang Nga, Phuket, Krabi and Satun.
The most recent migrations (17th-18th century) from Satun and Trang to Koh Yao Yai and Koh Yao Noi is attested by the fact that the particular dialect spoken on the island still bear obvious Malaysian lexical traces, particularely regarding toponyms and vernacular names of the flora species.
KOH YAO NOI NOWADAYS
The main industries on the island are fishing and rubber planting. A little rice farming and some fruit, palm and coconut plantations are evident. Boat building and farming techniques here have been passed from father to son and, while some of the youngsters leave Koh Yao to seek the bright lights of Phuket, most return to their tight knit community.
The island covers about 50 square kilometers and has approximately 18 kilometers of concrete and dirt road around it. Great for bicycling and walking. It is mountainous in the centre and has beaches to either side. The East side has beaches suitable for swimming and snorkeling and the West is a picturesque blend of rice flats and mangrove trees.
Being one of the biggest islands in the Phang Nga Bay archipelago, Koh Yao Noi is home to a hospital, several schools and a post office. 24 hour electricity supply, Internet access, mobile telephone connection and Automatic Teller Machine are available.
Koh Yao Noi is ideally situated to easily visit and discover by boat excursions the many spots of interest situated nearby: Phuket, Phang Nga Bay, Krabi and Ao Luk, Pee Pee Islands. Despite its vicinity with international tourist destinations, Koh Yao Noi remains an unspoiled and well preserved destination.
Koh Yao Noi has only a small selection of accommodation for visitors. No rowdy bars or shopping malls, no crowds and no traffic jams. Here is a place to unwind, take it easy and learn a little about the way of life of these friendly and interesting people.
LIMESTONE GEOLOGY AND DRAGONS
The many islands surrounding Koh Yao Noi –are made of dramatic limestone formation (karst) jutting out of the sea, resulting in hundreds of craggy cliffs, enclosed lagoons, deep and huge caves (hong), all covered by a  rocky and invasive endemic vegetation. This unique seashore topography provides both a place for local people to fish and collect, and a playground for visitors to relax and observe marine life and the many species of tropical birds to be found here.
But if we ask the locals about the unique configuration of Phang Nga Bay, it is said to have been created long ago when a mythical Dragon, the Naga, rushed from West to East to marry the Princess of Krabi. During his rush to get to the Princess's palace he split and broke rocks and islands, scattering them everywhere. Koh Yao Noi the tale tells us, was joined to Koh Yao Yai and the Naga tore through separating them forever. The little islands are all named by Malay dialect name (toponyms) according to this wonderful epic.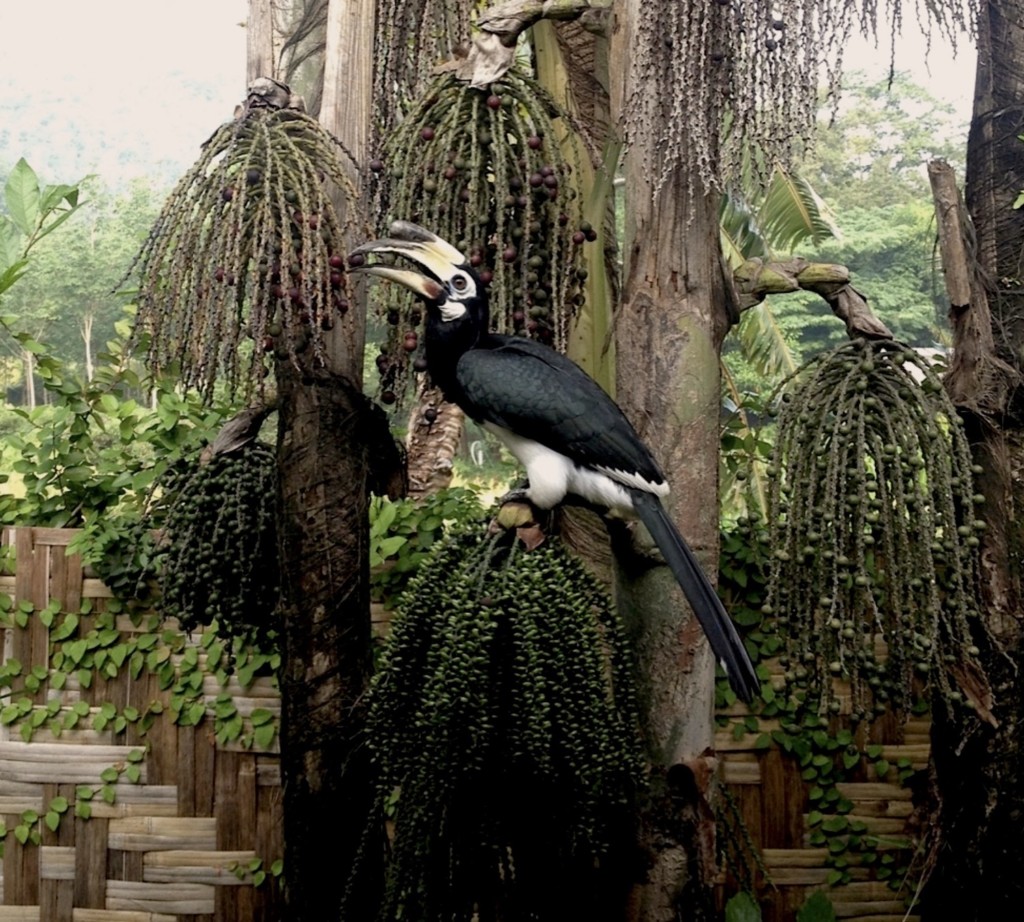 OBSERVING WILDLIFE
The Bay hosts two national parks. Fishing activities have been restricted in the Bay and only small scale fishing activities are now allowed. As a result, the fish population have considerably increase during the last ten years and giant trevallies, spanish makerels and groupers are often seen while snorkelling in the coral reefs.
The fauna and flora are simply amazing here: It is a paradise for birdwatchers that will observe here mor than 50 species of birds, from the majestic hornbills and sea eagles to the beautiful parrots and fisherkings. Monitor lizards, monkeys and deers can be sometimes observed while trekking around the islands.
CLIMATE
Located on 8th north parallel, where monsoon winds blow from the West (June to September), then suddenly reverse to the East (October till May), Koh Yao Noi benefits a typical wet tropical climate, as described by geographers: Constant temperatures (Max. 30 Cº to 33 Cº; Min. 20 Cº to 23 Cº, a rainy season (West winds) and a dry season (East winds) with short intermediate seasons. The effects of rains and winds are considerably reduced here by the presence of the Island of Phuket and the Malay Peninsula that protect the island on both sides, reducing rain falls and wind strength, and maintaining calm waters in the entire bay all year round – swimming and excursions can be enjoyed almost all the time. As a matter of fact, the climate here is simply ideal…
Learn more about our Islands : Blog and News, a naturalist notebook.